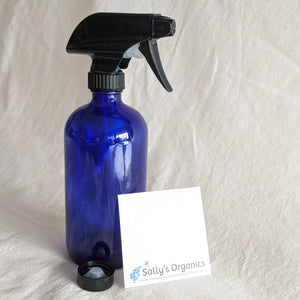 If you've bought glass spray bottles online, you know what a gamble it is to get a sprayer that doesn't konk out on you after very little use. That's why we sell Sally's Organics! The dark-colored glass protects contents from degradation from UV light while the high quality spray head works and works and works.
Perfect for storing your own cleaners like linen spray for ironing, vinegar and water mixture for cleaning windows, and homemade skin and beauty recipes. Two nozzle setting is suitable for spraying plants like succulents or herbs, 

BPA and LEAD FREE, will not impart odors nor leach chemicals.

16 oz. comes with spray nozzle and phenolic cap.