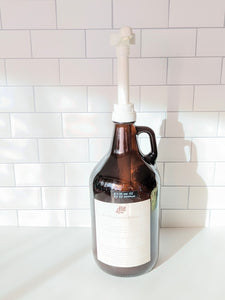 Ao Organics Hawaii's Malina Gel Cleanser is ideal for all skin types and especially beneficial for those suffering from dehydration and aging.
Meaning "soothing" or "peace" in Hawaiian, that's what Malina Gel Cleanser brings to your skin. Infused with cucumber, calendula and aloe, the gentle cleanser whisks away impurities, without drying your skin. Mint and matcha work in synergy to deeply refresh, while clearing clogged pores and banishing breakouts. The formula's Hawaiian honey and oat kernel lift away dead surface cells that dull your complexion to reveal a clear, bright, radiant tone. Malina is enriched with hyaluronic acid to draw moisture into skin cells and quench dry skin to leave it smooth, firmed, and plumped. Malina – for skin that is crystal clear, infinitely radiant, and beautifully hydrated.
Perfect for all skin types, especially acne-prone skin, Ao Organics Malina Gel Cleanser is your solution to banish breakouts, clear your complexion, and reveal firm, hydrated skin.
Farm-to-Face: Made with locally-sourced, Certified Organic ingredients that are always eco-friendly, and cruelty-free. We strive to support ethical and sustainable farms here in Hawaiʻi.
Ingredients: Aqua, *Cucumis Sativus (cucumbers) distillate, *Mentha piperita (mint) Distillate, *Aloe Vera Leaf Juice, *Calendula Officinalis Flower Extract, **Hawaiian Honey, Coco glucoside, Poly Glucose, Hyaluronic Acid, *Avena Sativa (Oat Kernel), *Xanthan Gum, Benzyl Alcohol (and) Salicylic Acid (and) Glycerin (and) Sorbic Acid, and Camellia Sinensis Leaf Extract
*Certified Organic Ingredients
**Locally sourced ingredients