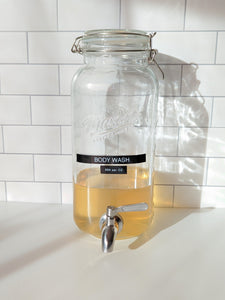 Puna Noni unscented body wash is made in Hawaii with ingredients that are healthy for people and planet. A revitalizing and moisturizing body wash formulated with certified organic plant, vegetable, and fruit extracts. Use daily to gently clean and replenish essential nutrients to your skin.

Why unscented? When manufacturers add artificial fragrances, they arenʻt required to disclose whatʻs in them. Ninety-five percent of them are made from petrochemicals, and if that isnʻt concerning enough, many contain endocrine disrupting chemicals. Yikes!
We want to make sure our products are safe for you and your ʻohana.
Ingredients: Purified water, Saponified Coconut Oil*, Glycerin, Pine Extract, Chamomile Flower Extract*, Nettle Leaf Extract*, Dandelion Leaf Extract*, Clover Flower Extract*, Apple Cider Vinegar, Hawaiian Noni Fruit Juice
*Certified Organic 
-----
Online orders will be packed in recycled glass jars.