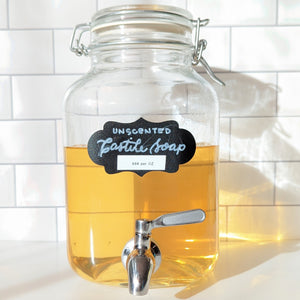 Unscented liquid Castile Soap can be used for hand soap, dish soap, bath soap, and all kinds of cleaning. Add a few drops of your favorite essential oil to customize the fragrance. Dilute to desired strength.
Ingredients: Water, Organic Coconut Oil*, Potassium Hydroxide**, Organic Palm Kernel Oil*, Organic Olive Oil*, Organic Hemp Seed Oil, Organic Jojoba Oil, Citric Acid, Tocopherol
*CERTIFIED FAIR TRADE INGREDIENTS
**None remains after saponifying oils into soap & glycerin.