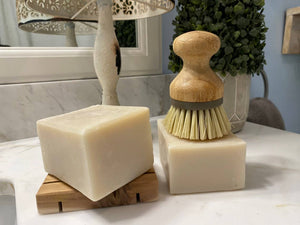 Our Solid Dishwashing Soap is made from 100% plant-based ingredients and pure essential oils. It has been formulated to cut through stubborn grease and grime on your pots and pans while being gentle on your hands. Citrus Basil scent is a blend of lemon, lime & basil. A nice clean, fresh scent. 
No parabens, sulfates, preservatives, artificial colors or fragrances. It is also palm oil free, vegan & cruelty-free.
Safe for septic.
To use, wet your dish brush or sponge and rub it on the dish soap bar to build up lather.
Each bar is approx. 10oz.+ and will last approximately 4-6 months, replacing up to 5 plastic bottles of liquid dish soap. 
Comes packaged in eco-friendly, recycled kraft paper & label. Zero-Plastic.
Ingredients: Organic Coconut Oil, Distilled Water, Sodium Hydroxide, Pure Essential Oils.