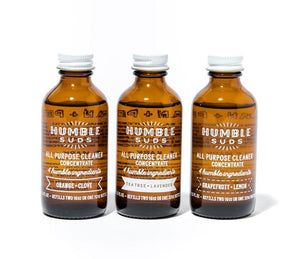 This little 2 oz glass bottle that makes one 32 oz bottle or two 16 oz bottles. Just add distilled water and shake!

From kitchen to bath and everywhere in between, Humble Suds All-Purpose Cleaner safely and effectively cleans your he, leaving it fresh and pristine. Since it's 100% free of harmful chemicals, you can be sure there won't be any harmful residues or fumes left behind...just the lovely light scent of pure essential oils.
Ingredients: Distilled water, Natural grain alcohol, Castile soap [organic saponified oils (coconut, olive, jojoba), rosemary extract, organic aloe vera], organic essential oils (grapefruit/lemon or tea tree/lavender or grapefruit/lemon).