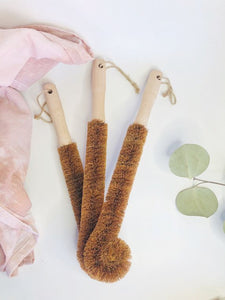 Don't stop your plastic-free revolution at your water bottle! Use a sustainable bottle brush to keep it clean. Made with sustainably sourced dried coconut husks for the bristles, wooden handle for a comfortable controlled grip and a cotton lanyard for hanging. Bristles are a medium stiffness creating a deep clean without abrasion. These are great quality brushes with a high bristle count. 100% Plastic & Package Free.
Wide brush is good for Hydroflask and Yeti style water bottles.
Dimensions: 12" x 2-1/8"