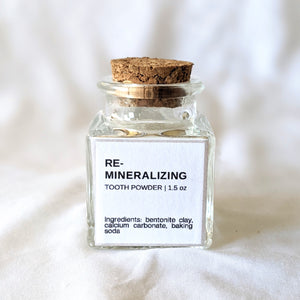 Good for sensitive teeth, remineralizing tooth powder will give your teeth a smooth polish. This a zero waste replacement for toothpaste. This tooth powder does not contain any added ingredients, so if you enjoy flavor, consider adding 6-12 drops of essential oil*.

Ingredients: bentonite clay, calcium carbonate, baking soda
Tooth powder purchased "zero waste" will be packed in a recycled glass jar, not the square jar with the cork lid as pictured.
* Some essential oils are not recommended for internal use. Please consult your oil specialist for recommendations.