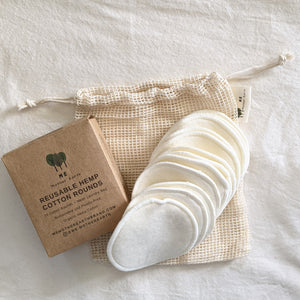 **Made with sustainable Hemp + Cotton**  Swap to super soft reusable hemp cotton rounds. Designed to last for years of use, you'll never have to use throw away cotton rounds or makeup remover wipes again! These are gentle enough to be used on all skin types, even sensitive skin, dry skin, and delicate baby skin. Use our super gentle wipes on their own, with makeup remover, or with your favorite facial products. 10-pack includes a mesh cotton laundry bag. 

For one acre of land, hemp can produce 1,500 pounds of fiber – 3x the amount of cotton. Hemp can also reduce soil pollution, uses drastically less water than cotton, is antimicrobial and durable, and one of the strongest natural fibers. 
Our rounds are 70% hemp and 30% cotton.
To use:
Wet round first with water so it won't absorb as much product. Then add your favorite makeup remover, cleanser, or toner and apply to your face. For best results, machine wash warm in the provided laundry bag. Lay flat to dry. No chlorine bleach. No fabric softeners.
Dimensions: 3.25" in diameter.